by
Korin Unka
| 722 views
<!– google_ad_section_start –>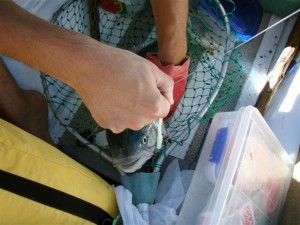 We went fishing on Saturday at Paraparaumu and although there was a nice southerly blowing through we still managed to get out. Launching the Zodiac from the beach can cause some issues even with the smaller wave – we don't have a front cover on our boat to keep the water from splashing over the top. The tricky part is not the first set of waves but generally the ones which break on the sand bar, out a short distance. We find the motor can hit the ground making it very hard to get the nose up to prevent a wave from crashing over. Anyway we got through that without major issue and starting fishing at around 25m. It was fairly choppy out on the water however we were certain the wind would drop during the change to northwesterly. We were trying to target the incoming tide and although low tide was predicted around 11am'ish the current didn't drop and change till about 2pm.
We did a lot of fishing without much luck at all (just some small sharks) and the hours seemed to just pass. The good thing was that for about 1 hour the wind did drop and it was really nice. But obviously as it did switch to Northwesterly the wind picked up and the sea got choppy again. It was around this time we decided to head in shallower, we saw some good bird activity up and down the beach. We anchored at about 13m of water and the fish finder showed a lot of activity – probably mainly bait fish, however where there are bait fish there are generally larger fish chasing them. In a very short time we started to get takes and wasn't long before one held. It was a nice size Kahawai. A short time after that we got another Kahawai and as soon as I dropped my line in the water again, I caught a Gurnard. My brother caught a couple of smaller Kahawai, but just this small amount of activity really made the day. I guess the lesson learnt here is to not always rely on one depth to provide you with all your fish. We saw that there was a lot of bird activity in the shallower water and although we didn't catch Snapper we still did catch Kahawai which I really rate as an eating fish. I guess in the future, if one spot isn't producing fishing then we should move on… there are times however when a bit of patience is a good thing and sticking to one spot can bring results… this was just not one of those times
<!– google_ad_section_end –>
This article maybe subject to copyright and cannot be replicated in any form without prior permission click here to contact us.