by
Korin Unka
| 1,938 views
<!– google_ad_section_start –>
We went out yesterday at midday in near perfect conditions. The water was a couple of degrees warmer than a couple of weeks ago and there was a lot of bird activity from Paraparaumu Beach through to Raumati Beach. Alot of this was in the shallow water, but great sign to see so many bait fish and large schools of Kahawai… we all know with large schools of Kahawai come larger fish. We decided to head out front of the Kapiti Boat club again at depth of 24m. With the tide heading out we drifted south towards Raumati Beach. The water temperature was reading about 16°c so this was a great sign for Snapper. I had baited my larger rod with a good size squid tenticle on a snapper rig and it wasn't long before I had the familiar take of a Snapper – it kept down, with small tugs and didn't run. I knew it wasn't a large Snapper however I was excited that it was the first of Summer and first for quite a while. Getting it to the boat it was a perfect size for the pan. I am very much into keeping the smaller size snapper over the larger ones as I am very much into letting larger older Snapper breed. The Smaller Snapper make for easier filleting and also better eating in my opinion.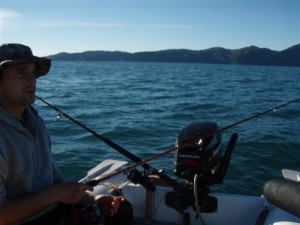 We drifted down towards Raumati Beach however didn't hook up on anything so we decided to go and investigate the large bird activity in the shallows (a depth of about 3m). Also I forgot to mention it was around this time we lost battery power to our new Garmin 300c so we were fishing blind but we are use to this so just decided to muck around and try something alittle different in this shallower water. We did hook up on small Kahawai at this depth, releasing the smaller ones and keeping a couple of good eaters. After this little bit of action we decided to head back to where I caught the last Snapper and again it didn't take long to catch yet another nice pan size one. At the same time my smaller rod hooked up on a Kahawai and also my brothers bait got stripped – which makes us think a school of Kahawai and Snapper came through.
The location of where we caught these Snapper was at a depth of about 20 – 24m and along Paraparaumu Beach Parade… basically from the shops through to where the road turns inward towards Raumati Beach….
It's a great sign that the Snapper are along the beach now so I hope people can get out there and start getting some of that great Kapiti Snapper!
<!– google_ad_section_end –>
This article maybe subject to copyright and cannot be replicated in any form without prior permission click here to contact us.