by
Korin Unka
| 1,751 views
<!– google_ad_section_start –>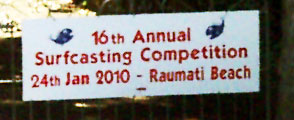 Just saw the sign for the annual Raumati Beach Surfcasting competition on the enterance of the Marine Gardens. Last year a record Snapper was caught, which I find an amazing effort especially surfcasting.
Here's some details:
When: Sun 24 Jan 2010 at 06:00 AM – 04:00 PM
Location: Raumati Beach, Raumati. To get there take Raumati Road from the SH1, head all the way to the Raumati Village Shops and get to the beach from the Swimming Pool access.
Quick Details:
Prizes galore including kids' prizes and $1,000 CASH for heaviest Kahawai.
Entry is on the day at the competition base and weigh station at Marine Gardens, Raumati Beach.
Registration from 6am. Fishing between 7am and 3pm The Prize Giving is at the Waterfront Bar & Kitchen from 4pm. Entry: Adults $20 per rod, Juniors $10 per rod. (Juniors defined as 14 years or younger on the day).
For more information contact Mike on 021 187 6618.
<!– google_ad_section_end –>
This article maybe subject to copyright and cannot be replicated in any form without prior permission click here to contact us.